The Role Of Data Privacy In AML/CTF Operations
Date:  Wednesday, February 22, 2017
Time:  12:00PM – 1:00PM EST | 5:00PM – 6:00PM GMT
Finance just doesn't run on data, it is data. And in the digital age, governments want access to financial data because it can illuminate behavioral patterns and yield actionable information to map the illicit economy and terrorist networks.
Where state demands for financial data have grown, data privacy law has also become more assertive.  The EU's 4th Anti-Money Laundering Directive (4AMLD) requires financial institutions to apply the General Data Protection Regulation (GDPR) in their AML/CTF programs. Finance must now reconcile two often conflictual legal regimes; AML/CTF laws that seek to protect the financial system from fraud, crime, and political violence, and data privacy laws that seek to protect an individual's identity and choices from government and private abuse.
Multinationals ask how they can comply with AML/CTF and data privacy laws across jurisdictions without incurring legal, reputational, and regulatory risk.
This webinar addresses privacy's role in AML/CTF operations such as,
the EU's prohibition of AML KYC data for marketing use;
automated and semi-automated data processing;
Enterprise-wide data sharing;
Steps compliance officers should take in internal organizational structures to mitigate privacy regulatory risks and improve public/private cooperation, and
how to use privacy regulation for profit.
Sign up today! Tell your friends, clients, customers and colleagues about it.
NoMoneylaundering webinars conduct audience polls that will give you vital benchmarking data so you can measure your anti-money laundering compliance against others.
Registered attendees will receive a Certificate of Attendance to demonstrate required AML training to auditors, and regulators.
Dr. Michelle Frasher, Ph.D.
Director Global Content, LexisNexis® Risk Solutions

Dr. Michelle Frasher, Ph.D. iscurrently the Director of Global Content at LexisNexis Risk Solutions. Prior to joining LNRS, she spent 15 years in academia and is an expert in transatlantic monetary relations and the politics of US-EU financial data transfers. Her work on AML/CTF and data privacy has appeared in Harvard Business Review, American Banker, Moneylaundering.com, the Associated Press, Business Horizons, the journal of the Kelley School of Business at Indiana University, and the EU diplomatic magazine, Border Crossings.  She is the author of Transatlantic Politics and the Transformation of the International Monetary System (Routledge 2014) with a foreword by Jacques de Larosière.  Her SWIFT Institute-sponsored study of US-EU AML/CTF and data privacy conflicts for multinational banking was releasedin July 2016.
Frasher was a Fulbright-Schuman Scholar in Belgium and Malta in 2014, a program sponsored by the U.S. Department of State and the European Commission, and she was a visiting fellow with the European Union Center at University of Illinois at Urbana-Champaign.  Frasher has spoken at numerous US and international conferences including ACAMS, IAPP, and Sibos.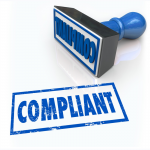 This webinar has been accredited with 1 CFCS point.
NoMoneylaundering.com applied for 1 ACAMS credit for this webinar.
This Live Webinar is Included in Your NoMoneylaundering.com Annual Webinar Plan Subscription. Subscribers will receive an email with log in details one day before the Webinar. These are also posted on the NoMoneylaundering.com platform. After the Live Webinar, Annual Webinar Plan subscribers can also view this webinar on-demand on our Platform.