Practical, Top Experts, Great Prices
We are a top training provider on financial crime risk management. Our training teaches you essential skills to improve job performance and to reduce risks. More than 300 financial institutions have taken our training.
A robust ongoing targeted training program for AML teams worldwide.
Our popular live and on-demand webinar series for AML professionals, senior management and business lines are attended by a wide variety of financial institutions worldwide.
We provide specialized training on case studies related to AML/CFT compliance, money laundering and terrorist financing typologies, Bank Secrecy Act, USA PATRIOT Act, OFAC/Sanctions, EU AML Directives, U.S. anti-money laundering laws, and related topics to financial institutions internationally.
Hundreds of financial institutions entrusted their AML projects with us.
Our network of experienced speakers consists of 20+ experts in BSA/AML issues, most of them CAMS (Certified Anti Money Laundering Specialist).
Our depth of practical, international experience, and knowledge of the topic, allows us to provide deliver a top-notch training session that will be well received by your trainees and regulators alike.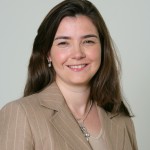 Our Founder
Saskia is a Certified Anti-Money Laundering Specialist (CAMS) and an industry leader on anti-money laundering (AML) and related financial crime topics. Saskia has over 15 years of AML experience, in the USA, Latin America and Europe.
Stemming from her global footprint, she applies valuable expertise and insight into international training, and financial crime compliance projects. Saskia was the founding Executive Director of the Association of Certified Anti-Money Laundering Specialists (ACAMS). She conducts training, independent reviews of AML/OFAC Compliance Programs, designs AML/OFAC Manuals, and AML/OFAC Risk Assessments. Saskia is Partner at AML Services International. Its webinar series attracts hundreds of financial institutions from all over the world.
Saskia spearheaded ACAMS as its founding Executive Director from October 2001 to December 2005. Under her leadership, ACAMS grew from 0-3500 members from 101 countries, and developed the Certified Anti-Money Laundering Specialists Program (CAMS), which has become the de facto AML credential in the financial services industry worldwide.
She has served on the ACAMS Advisory Board, and on the ACAMS Exam Preparation Seminar Taskforce. From 2007-2010, Saskia served as Financial Crimes Advisor to Fiserv, a U.S- based Fortune 500 company.
She is a frequent speaker in English, Spanish and Dutch on a variety of financial crime subjects. She earned law degrees from Leiden University (Netherlands) and Universidad La Católica (Lima, Peru). She also has an international MBA from Florida International University.
She speaks fluent Dutch, English, Spanish and basic German.