Counterfeit Goods: Money Laundering in Plain Sight
Date: Thursday, September 28, 2017
Time: 12:00 PM-1:00 PM EST | 5:00 PM – 6:00 PM GMT
Counterfeit goods are an emerging risk not just to the general population but also to financial institutions that may miss the potential predicate crimes involved in their manufacture, distribution, and sale. These crimes can include money laundering, human trafficking, bribery, extortion, fraud, as well as regulatory concerns such as potential sanctions violations. Counterfeit goods are largely controlled by organized crime groups, terrorist supporters, and even sanctioned government entities. The underlying symptoms of these illicit actors' control over the counterfeit goods market requires a careful calibration of anti-money laundering (AML) and sanctions compliance controls and a keen understanding of how the crime carried out in their origination can interface with those controls.
By bringing enhanced awareness of counterfeit goods to light, financial institutions, law enforcement, and people who genuinely want to drive positive change in the public will be better equipped to detect the ultimate beneficial owners who commit the underlying offenses linked to their the production and sale.
Learning Objectives:
Attendees will gain enhanced awareness around the emerging risk conditions related to the production, distribution and sale of counterfeit goods.
Deepening understanding of the key risk indicators related to trade based money laundering, human trafficking, financial crime, and sanctions violations.
Attendees will be shown real life case studies that demonstrate how to potentially develop new AML/Sanctions controls or enhance existing controls to be able to detect the underlying offenses related to the production, distribution and sale of counterfeit goods.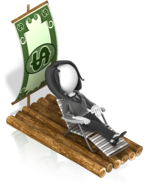 Sign up today! Tell your friends, clients, customers and colleagues about it.
NoMoneylaundering webinars conduct audience polls that will give you vital benchmarking data so you can measure your anti-money laundering compliance against others.
Registered attendees will receive a Certificate of Attendance to demonstrate required AML training to auditors, and regulators.
Michael S. Schidlow, CAMS, CFE
SVP; Head of FCC and Emerging Risk Audit Development
Global Internal Audit
HSBC Bank USA N.A.

Michael Schidlow is an accomplished investigator, professor of ethics and criminal justice, licensed attorney, Certified Fraud Examiner (CFE) and Certified Anti-Money Laundering Specialist (CAMS).
In his role as the Head of Financial Crime Compliance and Emerging Risk Audit Development at HSBC, Schidlow directs the financial crime compliance training program for the global internal audit function. Under his leadership, Schidlow spearheaded the development of an exemplary financial crime compliance Bootcamp course, which has been delivered across the entire HSBC global footprint. Schidlow also provides emerging risk advisory to audit for HSBC's North American region.
Schidlow previously served as the United States' foremost investigator for Bank of America's Global Financial Crimes Compliance division, specializing in high-profile client compromises, high net-worth investigations, complex fraud,
and insider abuse allegations. Schidlow started his career working as an attorney at some of Manhattan's premiere law firms, concentrating on regulatory compliance and white collar litigation matters.