Human Trafficking: What You As A Financial Professional Can Do to Prevent it
Date: Thursday, August 22, 2019
Time: 12:00 PM – 01:00 PM EST | 5:00 PM – 6:00 PM (London)
6:00PM – 7:00PM (Amsterdam)
Human trafficking remains one of the fastest growing illegal enterprises. It is of special importance to the AML/financial crime prevention community who are tasked with the detection and reporting of human trafficking money laundering red flags. As financial institutions you are in a unique position to serve as a line of defense against these terrible crimes.
In this NoMoneyLaundering.com webinar, join our expert speakers as they delve into the shady underworld of human trafficking, the financial transactions that support it, and how financial professionals like you can help to bring down this illicit trade.
You will learn:
The geographic risks associated with human trafficking;
The benefits of prevention through employment, training, and outreach;
Screen illicit transactions linked to human trafficking; and
Leveraging analytics to better detect predicate crimes.
Sign up today! Tell your friends, clients, customers and colleagues about it.
NoMoneylaundering webinars conduct audience polls that will give you vital benchmarking data so you can measure your anti-money laundering compliance against others.
Registered attendees will receive a Certificate of Attendance to demonstrate required AML training to auditors, and regulators.
Michael Schidlow
Financial Crime Compliance Advisory and Training Specialist
HSBC Bank USA N.A.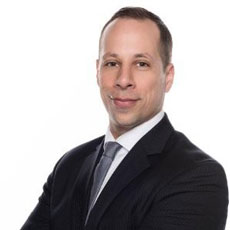 Michael Schidlow is a financial crime compliance advisory and training specialist who has held leadership positions in the legal, compliance, and audit fields. Most recently, Schidlow has served as the director of financial crime risk training for HSBC's Global Internal Audit function. He delivered training and guidance on anti-money laundering, sanctions, anti-bribery and corruption, and fraud. Schidlow also led emerging risk advisory, consulting on audit scoping and planning.
Schidlow previously served as an investigator for Bank of America's Global Financial Crimes Compliance division, specializing in high-profile client compromises, complex fraud, and insider abuse allegations. Schidlow started his career working as an attorney concentrating on regulatory compliance matters.
Schidlow holds the Certified Fraud Examiner (CFE), Certified Anti-Money Laundering Specialist (CAMS), ACAMS Advanced Certification in AML Audit (CAMS-Audit), and is a licensed attorney.
Brad Jeffery
CEO & Co-Founder
Servant, CAUSEGEAR, L3C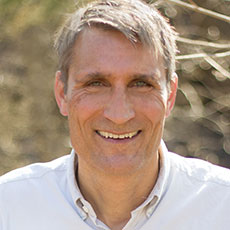 A CHICAGO based social enterprise with a mission is to transform the lives of one million people trapped in unfathomable poverty & injustice to become self-sustaining. Brad started CAUSEGEAR from a deep desire to use business as a force for ending one of todays most urgent human injustices, slavery. Brad's background includes 30+ years of sales, marketing, design, leadership, and business development. He has a B.S. Graphic Design from Bradley University and an MBA from Lake Forest Graduate School of Management. Brad is an advisory board member, of the Loyola Baumhart Center for Social Enterprise and Responsibility.
Brad and his wife Katherine resides in the Chicago area. His passions include art and design, outdoor sports, distance running, international business compassion, global missions for victims of trafficking & extreme poverty, and sustainable life transformation.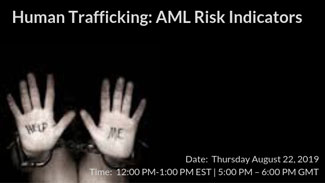 Moderator:
Anna Sayre, Legal Content Writer, SanctionsAlert.com
This Live Webinar is Included in the NoMoneyLaundering.com Membership. NoMoneyLaundering.com Members will receive an email with log in details one day before the Webinar. These are also posted on the NoMoneyLaundering.com Platform. After the Live Webinar, NoMoneyLaundering.com Members can also view this webinar on-demand on our Platform.