Date:  Wednesday, March 28, 2018
Time:  12:00 PM-1:00 PM EST | 5:00 PM – 6:00 PM GMT
The BSA/AML Risk Assessment is one of the main tools used to evaluate the strength of an institution's compliance controls. It assesses the level of regulatory and money laundering risks by identifying the business segments, business units and support functions to be assessed, and determines the scope of applicable AML/BSA laws and regulations for each segment. The Assessment then scores the inherent risk factors and strength of controls to ultimately generate an inherent/residual risk heat map.
As part of AML compliance testing – one of the main pillars of an effective AML program – it is essential to also review and test an institution's BSA/AML Risk Assessment.
In this NoMoneylaundering.com Webinar, our expert will discuss:
a complete breakdown of the Federal Financial Institutions Examination Council (FFIEC) Requirement;
an example of a Risk Assessment Scoring Methodology;
how to best utilize quantitative data;
how to carry out Risk Assessment Quality Control (QC) testing;
Risk Factors v. Control Activities;
how to aligning Inherent Risks to Residual Risks; and
how to properly report the results.
Sign up today! Tell your friends, clients, customers and colleagues about it.
NoMoneylaundering webinars conduct audience polls that will give you vital benchmarking data so you can measure your anti-money laundering compliance against others.
Registered attendees will receive a Certificate of Attendance to demonstrate required AML training to auditors, and regulators.
Victor R. Cardona CAMS
Vice President, Opus Bank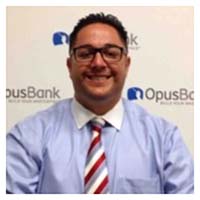 Victor is currently Vice President of the BSA Department at Opus Bank, an $8 billion dollar bank headquartered in Irvine, CA with offices in California, Arizona, Washington and Oregon. Victor is responsible for managing the bank's enterprise wide BSA Risk Assessment program, Quality Control program, policies and procedures, and training. Prior to this, Victor was the BSA Officer for Plaza Bank, responsible for managing the bank's overall BSA compliance program. Before joining Plaza, Victor was the Assistant Vice President, BSA Risk Officer for City National Bank in Los Angeles after starting his career with Farmers & Merchants Bank in 2004.
Victor holds a Bachelor's degree in Accounting and an MBA in Economic Crime & Fraud Management. Victor also attended the police academy at the Golden West College Criminal Justice Training Center. Victor also currently sits on the ACAMS Southern California Chapter Board as their Events Coordinator.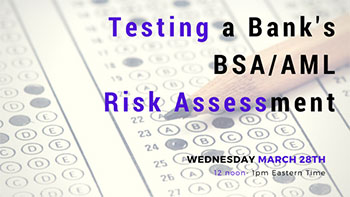 Moderator:
Anna Sayre, Legal Content Writer, SanctionsAlert.com
This Live Webinar is Included in the NoMoneyLaundering.com Membership. NoMoneyLaundering.com Members will receive an email with log in details one day before the Webinar. These are also posted on the NoMoneyLaundering.com Platform. After the Live Webinar, NoMoneyLaundering.com Members can also view this webinar on-demand on our Platform.