Money Laundering through Real Estate: Tips on Identifying and Investigating Cases
Date:  Thursday, March 08, 2018
Time:  12:00 PM – 01:00 PM EST | 5:00 PM – 6:00 PM GMT
Laundering illicit proceeds through real estate is an established money laundering method in the United States and beyond. Criminals continue to use this method to wash their dirty proceeds through the exchange of real property and many are still going undetected.
This course focuses on how and where transactions related to money laundering in real estate intersect with the regulated sector, in particular banks. The speakers will cover tips on identifying money launderers by looking at financial transactions and KYC files, as well as discuss other red flags such as simple cash deposits used to pay rental payments months in advance and complex transactions in which multiple properties are bought, resold or exchanged.
Sign up today! Tell your friends, clients, customers and colleagues about it.
NoMoneylaundering webinars conduct audience polls that will give you vital benchmarking data so you can measure your anti-money laundering compliance against others.
Registered attendees will receive a Certificate of Attendance to demonstrate required AML training to auditors, and regulators.
Lester Joseph
Manager of the Global Financial Crimes Intelligence Group – Wells Fargo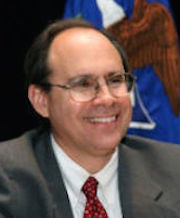 Lester Joseph is the Manager of the Global Financial Crimes Intelligence Group at Wells Fargo & Company. The primary mission of this Group is to provide intelligence on money laundering activity and financial crime trends to all parts of the company. Les joined Wells Fargo in 2010 as the International Investigations Manager, where his team's primary mission was to identify, investigate, report, and trend suspicious activity conducted through the bank's foreign correspondent customer accounts.Prior to joining Wells Fargo, Les worked for the U.S. Department of Justice as the Principal Deputy Chief of the Asset Forfeiture and Money Laundering Section.
Kelly Radzilowski
Joined Global Financial Crimes Intelligence Group – Wells Fargo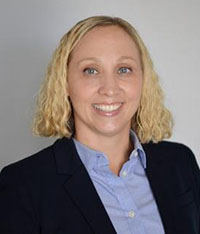 Kelly Radzilowski joined Wells Fargo's Global Financial Crimes Intelligence Group (GFCIG) in March 2016. She came to the team from the International Investigations Group, where she was an investigator for over 3 years and focused on cases related to correspondent banking activity. Kelly also has eight years of experience in the real estate industry which has become a major money laundering typology over the last few years. She has been able to utilize her knowledge of real estate public records to aid in money laundering related research and has completed several recent case studies which have proven the validity of her research techniques. Kelly graduated cum laude from George Mason University with a B.S. in Management.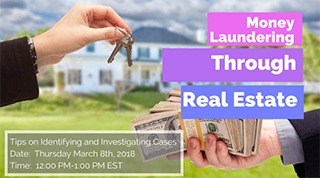 This Live Webinar is Included in the NoMoneylaundering.com Annual Webinar Plan. NoMoneylaundering.com Annual Webinar Plan Subscribers will receive an email with log-in details one day before the Webinar. These instructions are also posted on the NoMoneylaundering.com Annual Webinar Plan Platform. After the Live Webinar, NoMoneylaundering.com Annual Plan Subscribers can also view this webinar on demand on our Platform.